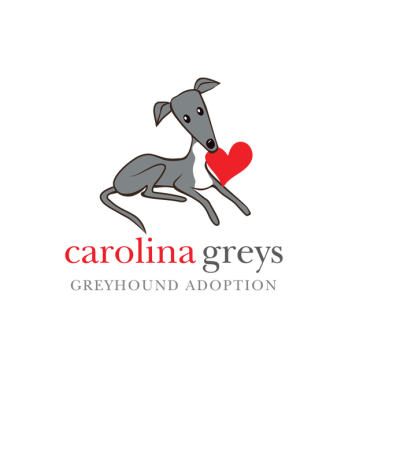 ​Our Mission:
Educate the public and raise awareness about the availability and suitability of retired racing Greyhounds as pets.
Find loving and qualified homes for the Greyhounds entrusted to our care.
Provide ongoing support to those who adopt Greyhounds from Carolina Greys Greyhound Adoption or any other group.
Promote harmony and teamwork among all segments of the worldwide Greyhound community.
We are a 501 (c )(3) organization.
---
Ways You Can Help A Greyhound...
Meet and Greets

Lexington, South Carolina

February 10 , 2018

12:00 PM - 4:00 PM

5135U Sunset Boulevard

Lexington, SC 29072

(803) 356-1917

---

Charlotte, North Carolina
January 27, 20187
12:00 PM - 4:00 PM
PetSmart at Cotswold Village Shops
206 S. Sharon Amity,
​ Charlotte, NC 28211 (704) 366-3807



---

Columbia, South Carolina

January 20, 2018

12:00 PM - 4:00 PM

​10136 Two Notch Rd Ste 109c Columbia, SC 29229

(803) 419-1342

​

---

IGive.com

Want to help

Carolina Greys Greyhound Adoption

at no extra cost to you?

In just four simple steps, you can shop and donate to

Carolina Greys Greyhound Adoption

today.

Join iGive by filling out the form. http://www.igive.com
Choose Carolina Greys Greyhound Adoption.
Activate and use the user-friendly iGive Button at over 1,700 online stores.
Once you make a purchase, Carolina Greys Greyhound Adoption gets money – all at absolutely no extra cost to you. Yes, it's really that simple!

​

Martingale Collars

We support and sell collars made by Diane Walsh who owns

Regal Hounds

. Please visit her website at http://regalhound.com/ and on facebook at

The Regal Hound

.

​

_

​

Becoming a Foster Parent

By becoming a foster parent you will be saving the lives of these beautiful, loving and gentle creatures.

_

A Foster Mom's Goodbye

---

Donations
Donations are always welcome. By donating you will be helping us with veterinary costs, food, heartworm and flea preventatives.

Donations may be mailed to 213 Meetze Avenue, Lexington, SC 29072-2623. Thank You!



Adoption Applications
​Adoption Applications may be sent to 213 Meetze Avenue, Lexington SC 29072-2623 or emailed to lisamorehead1@yahoo.com
​

Greyhound Pet Sitting
​​Greyhound Pet Sitting is available in two locations!

​We will take care of your sweet grey while your away.

​For our Concord NC location please contact Lisa Morehead at 704-795-5824 or 704-918-2924 for more information.

​For our Lexington SC location please contact Judy Horton at 803-957-3866 or 803-360-3766 for more information.



Helpful Links




​St Paws Thrift StoreCarolina Greys Greyhound Adoption, Inc

is partnered with

St Paws Thrift Store

in Irmo SC. They are a greyt organization! Their proceeds support local animal groups! If you live in the Irmo or Columbia area, please help us support St Paws by shopping in their store and donating gently used items. You may also bring your used items to our Meet and Greets and we will make sure that St Paws receives them. Thank you!

_
Thank you for supporting Carolina Greys Greyhound Adoption!